Links & Useful Information
General Resources
Water & Weather Conditions
Web Cams
Marine Field ID
Books - Critter ID
Daniel Gotshall - Pacific Coast Subtidal Marine Invertebrates (Great Book!)
David Behrens - Pacific Coast Nudibranchs
The Audubon Society - Field Guide to North American Seashore Creatures
Books - Local Authors
Judith Garfield
The San Diego - La Jolla Underwater Park Ecological Reserve, Vol. 1: La Jolla Cove
The San Diego - La Jolla Underwater Park Ecological Reserve, Vol. 2: La Jolla Shores and Canyon
The Amber Forest - Ronald H. McPeak, Dale A. Glantz, Carole R. Shaw -
Local underwater photographers created this. Have no idea if you could even find it anymore. Aqua Quest Publications, Inc., Jun 1, 1988
Other
SD Lifeguard Conditions Report: 619-221-8824
SD County Beach Advisories & Closures Report: 619-338-2073
Hand Signs for Diving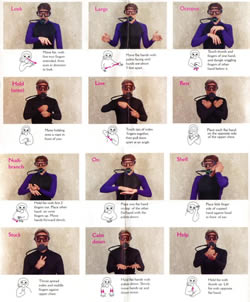 Click for larger image
Learn To Scuba Dive
Bob's 44 year love of Scuba Diving started in high school. When attending college at UCSD, Bob became involved with the UCSD Scuba Club, the Sea Deucers, and took all of the scuba classes offered. This progression lead to taking the Dive Master course and a few years later, continuing with the Instructor program.

Suzanne's 32 year dive career started at UCSD, where Bob was her instructor. After the class, their diving together continued. This lead to several dive trips and finally to Fiji were the were engaged (read more of the engagement). Suzanne now coordinates the UCSD dive program as well as being one of its instructors.
Scuba Instruction provided through Campus Recreation at UCSD
UCSD is proud to have 5 instructors whose combined expertise spans 130 years diving & 80 years teaching. Join our classes and have fun as we share our experience from over 7600 logged dives. Basic certification, advanced, specialty and leadership level courses leading to PADI certification. Classroom and pool meetings are on UCSD or SIO campus. Beach dives for Open Water Scuba class are at La Jolla Shores. Mandatory orientation meetings are at Ocean Enterprises.
The following requirements apply to all courses:
Be in good health as defined by PADI Medical Form and verified by your doctor.
Be able to swim 200 yards continuously and float/tread water for 10-minutes.
Fitness level requires carrying 55 lbs down beach and swim 200 yards for each ocean session.
Have clear understanding of written and spoken English to demonstrate adequate knowledge of course material.
Attend all classroom, pool and ocean meetings. Complete all course requirements. Class dives may be rescheduled due to inclement weather or poor water quality. Individual make-ups are $75 per pool session or ocean dive.
Note: Private classes are also available for students needing extra support.
Open Water and Advanced Scuba classes are offered quarterly. Spcialty classes include Night Diver, Deep Diver, Underwater Digital Photography and Rescue are also offered.

Comments from our students:
Comments about the Instructors:
Comments about the Class:
Additional Comments:
---